TAIPEI (Taiwan News) -- A hapless Chinese marathon runner was not only possibly deprived of winning a race when a volunteer leaped on the track and shoved a Chinese flag in front of her, but Chinese netizens have criticized her for dropping the communist banner in an attempt to win the race held in Suzhou on Sunday (Nov. 18).
Just as He Xianli (何引麗) was nearing the finish line, and was shoulder-to-shoulder with her Ethiopian rival Ayantu Abera Demisse at the Suzhou Taihu International Marathon on Sunday, a volunteer lunged onto the track to try to hand her a Chinese flag. He managed to dodge the volunteer, who comically tried to chase her down without success.
Just at the critical moment, when He was starting to pull ahead of Abera, another volunteer took a much more aggressive approach and deliberately stood in front of both runners on the track and shoved another Chinese flag in He's face. Abera swerved to her right and He was stuck holding a flag along with the inevitable drag and distraction it brought.

Moment He "throws" flag down. (Screenshot from DiaoZhaErTV2)
While struggling to make up the lost ground against Abera, Chinese He could be seen tossing the flag to the pavement. Unfortunately, the damage was done and Abera eventually pulled away for the win, while He ended up finishing five seconds behind for second place.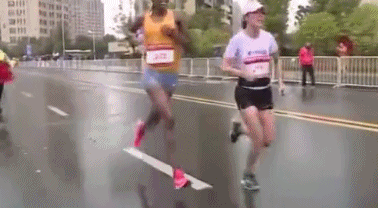 GIF of He getting handed flag and then dropping it.
Instead of sympathy for being interfered with by two volunteers, He was immediately criticized by Chinese netizens for unpatriotically "throwing away" the national flag of China. One netizen wrote, "The runner's result is more important than the national flag?" Another wrote, "There's no reason to throw away the national flag."

Runner He was compelled to make a quick public apology on Weibo following the incident, writing "I didn't throw it. The national flag was soaked, and my arms were stiff. It dropped during the arm swing. Sorry about that. I hope you can understand."


There were some netizens who came to her defense, saying that the foolishness of the volunteers "cost China the championship" and that "it's the volunteers and organizers who should apologize."

Weibo image showing He wrapped in the obligatory flag with a frustrated expression on her face.